[Editor's Note]
For more information about the dangers of Triclosan please read this:
Handwash Chemical Linked To Cancer

Source: RTAmerica
September 2, 2016
There is insufficient evidence to prove that antibacterial soaps are superior to plain soap and water for killing germs and preventing illness, according to the US Food and Drug Administration. Additionally, antibacterial ingredients could be unsafe.
Regular hand- and body-washing methods trump the health benefits of antibacterial soaps and body washes, the Food and Drug Administration (FDA) said Friday after years of studying the issue. Furthermore, antibacterial soaps contain the chemicals triclosan and triclocarban, which are not proven to be safe for sustained use, the FDA said.
The FDA is now barring the marketing of over-the-counter antiseptic wash products containing certain active ingredients based on a lack of scientific evidence proving their effectiveness and safety.
"Companies will no longer be able to market antibacterial washes with these ingredients because manufacturers did not demonstrate that the ingredients are both safe for long-term daily use and more effective than plain soap and water in preventing illness and the spread of certain infections," the FDA said in a statement.
The FDA's rule applies to products that contain 19 active ingredients in antibacterial soaps. Manufacturers will have a year to remove those ingredients from their products. Three other chemicals — benzalkonium chloride, benzethonium chloride, and chloroxylenol — are currently undergoing more analysis for their safety and effectiveness.
The rule does not apply to hand sanitizers or hand wipes, though manufacturers were told by the FDA in June that they must prove active ingredients in over-the-counter consumer antiseptic rubs are safe and effective.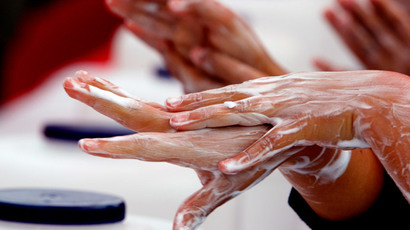 Triclosan, used in 93 percent of products listed as "antibacterial" or "antimicrobial," breaks the cell walls of bacteria over the course of several hours, far longer than normal soap-and-water washing can kill bacteria. The chemical has been linked to hormonal disruption during testing on animals, the FDA said, yet there is no ultimate proof that it is harmful to humans. Studies have also indicated that triclosan use increases bacteria resistance to antibiotics.
"There's no data demonstrating that these drugs provide additional protection from diseases and infections. Using these products might give people a false sense of security,"said Theresa M. Michele, of the FDA's Division of Nonprescription Drug Products.
"If you use these products because you think they protect you more than soap and water, that's not correct. If you use them because of how they feel, there are many other products that have similar formulations but won't expose your family to unnecessary chemicals. And some manufacturers have begun to revise these products to remove these ingredients."